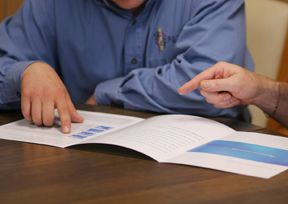 At Bryant Graphics, we work daily to pursue progressive means to better serve our clients. While our company has a long and successful history, we do not rest on our laurels. The company's employees are empowered to constantly improve our already effective systems for tracking, producing, quality checking and delivering print products.
Our people are our greatest asset. Over the years, Bryant Graphics has worked to recruit and retain employees who want more than to just show up each day to do a job. They exceed the standards of their job descriptions, constantly seeking out and learning new methods for delivering better products and services to our clients.
This desire to innovate allows Bryant Graphics to offer a wider array of print and marketing products to our clients than at any time in the past. We recommit ourselves to this goal every day, knowing our clients expect it.